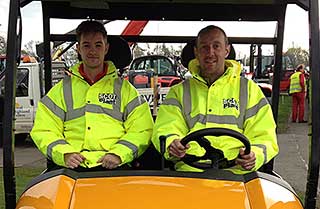 The anticipation is rapidly building as we're now less than 48 hours from the start of ScotPlant 2014
More and more of the world's leading manufacturers have arrived in Ingliston including Liebherr, whose impressive line-up has taken shape over the last 24 hours.
There was great excitement today when the Army's 71 Engineer Regiment arrived on site. They'll be displaying some of the incredible construction kit used by the Armed Forces – which they have described as the unsung hero of the battlefield. Among the machines they'll have is Trojan, an armoured vehicle designed to open routes through complex battlefield obstacles and clear a path through minefields. It's quite a sight to behold and sure to be one of the highlights this weekend.
In a first for ScotPlant, we've created a video build-up to the event. Using a camera which takes a photo every 20 seconds, viewers will be able to see how the site has built up and changed beyond all recognition. You can check out this video on YouTube as well as the ScotPlant Facebook and Twitter accounts.
A particular highlight for the Peebles Media team was the donation by Scot JCB of a Workmax utility vehicle, which the team will have use of for the duration of the show. With so much ground to cover, this has come in very handy indeed!
In more good news, the weather has taken a turn for the better. Yesterday's heavy rain has been replaced with a predominantly dry, bright day – a godsend for all those outdoor workers busy building stands, moving heavy machinery and preparing for the event of the year.