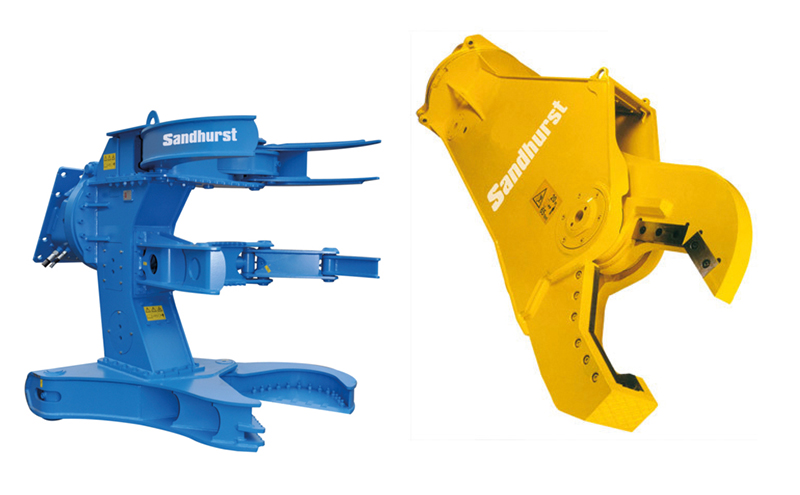 ATTACHMENT hire firm Sandhurst is making a welcome return to ScotPlant after a deade-long absence.
"It's our first one in so long, it (feels) like our first show," David Ross, regional manager for Scotland told Project Plant. "It is the one everyone wants to be at, so I just feel we need to be there to speak to customers and let them know some of the products and services we can provide them with."
The company will be showcasing its range of excavator attachments including hydraulic tree shears and a tree grapple from CMB, alongside a set of new Zato FCE10 hydraulic shears.
David said the tree shears were relatively new to the Sandhurst hire fleet, calling it an "ideal bit of kit" for forestry works in Scotland. The shears are capable of cutting to 350mm diameter and feature heavy-duty twin clamps, bunches, grips and cuts, both horizontal and vertical cutting and a 360° rotation.
The log grapple is pendulum-mounted with a continuous 360° rotor and features interlocking jaws and overlapping tines. It is capable of grabbing down to 100mm diameter with a max jaw opening of 1,500mm–4,300mm. The grapple attachment is used a lot in the rail and forestry sectors, David explained.
The Zato shears offer a 360° continuous rotation, a Hardox steel moving jaw and a Weldox wear plate in the body and frame.
Sandhurst will also be showing off 15,000MAX and 50,000MAX augers from Auger Torque, along with an Auger Torque MT 900 trencher. The trencher is designed for excavators between 3 and 5 tonnes and skidsteer loaders, for trenches of 100–300mm width.
"The trencher is quite uncommon now in the hiring industry," David said. "We've had them out to a few customers (and had) really good reviews back from them so I just feel, personally, it's a good thing to promote up here and I think we'll get a fair bit of work from them."
David added, "I quite confidently think we'll be one of the only ones with tree shears and chain trenchers on their stand I think the range of products will bring customers in to us.
"I would just like to get good feedback from our customers (and) hopefully pick up a few new customers. We'd like to get some sales as well but the main thing is to put names and faces together."