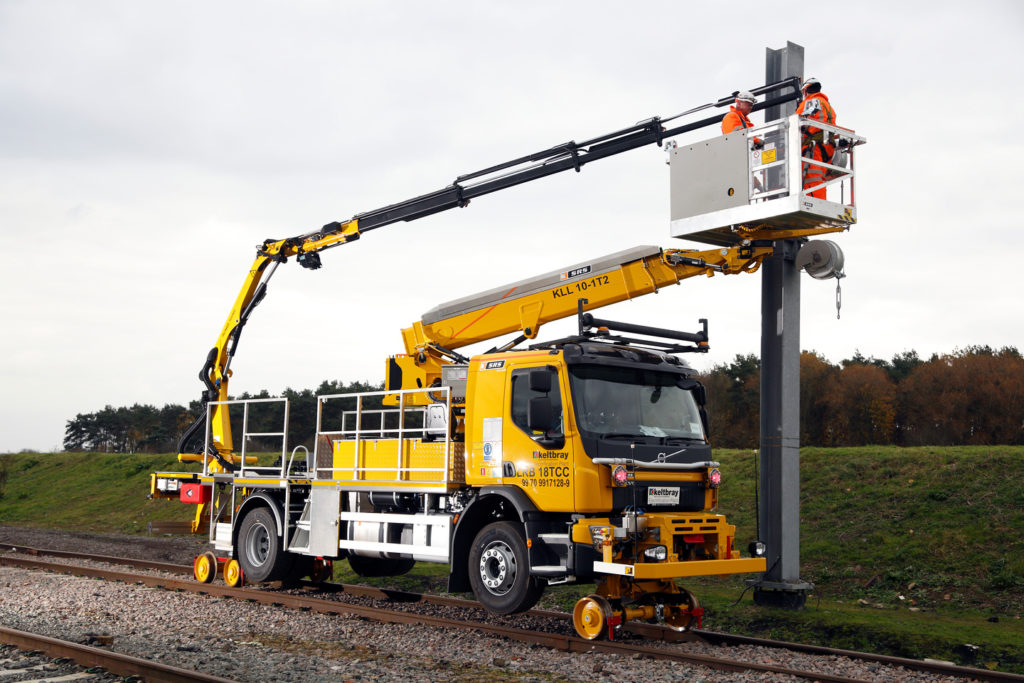 Keltbray Group has invested £3 million in six "unique concept" mobile elevating work platform (MEWPs) road rail vehicles for use in the rail sector – a UK-first.
Keltbray Aspire provides electrification services on the rail infrastructure and the MEWPs will be used for the installation of overhead line electrification across the UK.
Keltbray has developed the vehicles in collaboration with SRS Sjölanders AB in Sweden. The MEWPs have a 12-metre reach, a 500kg mobile basket that can rotate 180 degrees and are fitted with a crane that can lift up to 330kg at 12-metre reach. This, the company claims, eliminates the need for outriggers.
Dave Wright, head of plant for Keltbray Electrification Plant explained, "In the past, our overhead line electrification installers would lift some small part steelwork manually in conjunction with the mobile platform or by an additional machine for larger and heavier steelwork. The development and inclusion of the crane now completely removes manual handling from the installation process and offers cost reductions by removing the need for a second lifting machine, which would otherwise be required under present day installation methods."
Dave continued, "The new machines also have the ability to transport installers, support staff and materials to site on the rear of the machine once on the track. This offers greater efficiency in terms of the transportation of materials and staff. It also reduces the risk of slips, trips and falls significantly.
"The idea of adding the crane was developed when we became aware of the many unfortunate industry-wide incidents that involve trapped or crushed limbs. The addition of the crane will remove this risk and makes the installation process safer, easy and more efficient."
Dave added, "These pioneering machines will help us meet the growing demand for Keltbray's rail services and long-term pipeline of work. Our commitment to innovate around key areas of safety and productivity allow us to continue to develop our rail services capabilities."