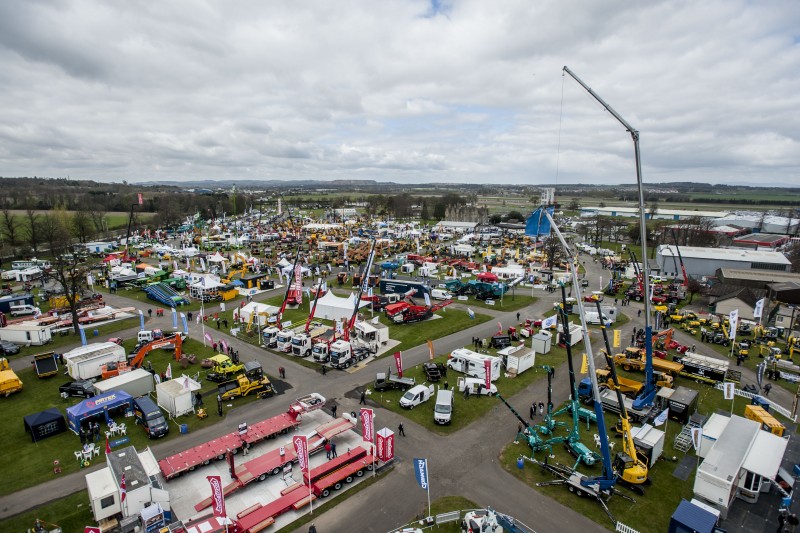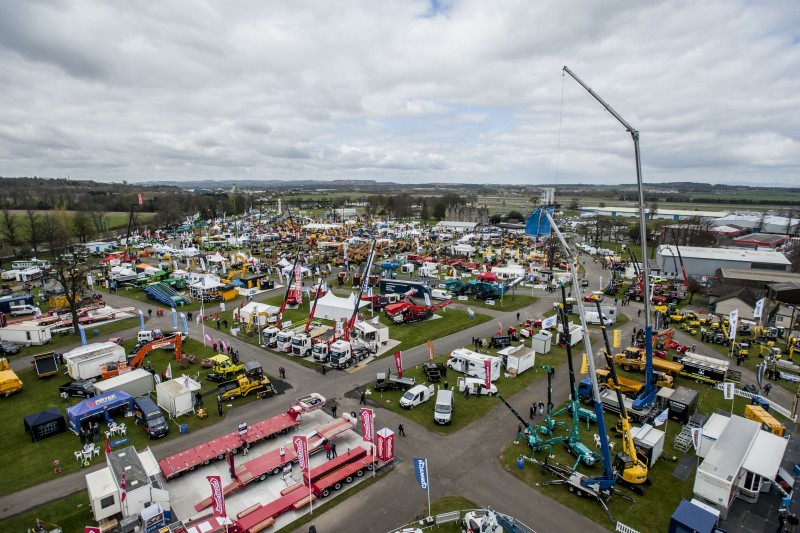 ANOTHER fantastic ScotPlant exhibition is in the books, with many exhibitors quickly declaring this year's event to be an overwhelming success.
Unusually great weather helped the build-up run smoothly before visitors were treated to two glorious days of touching, viewing and learning about the latest machines and innovations in the marketplace.
Once again ScotPlant showed itself to be a trade show where deals are done, with many firms confirming deals were secured on the stand. Countless more genuine leads were obtained and will be followed up in the months to come.
Brian McGrane, area sales manager for Liebherr GB and Central Scotland, said, "It's been an excellent weekend for the fact we've had some excellent leads and we've actually done some business at the show, which always happens at ScotPlant. Machines are purchased at the show, which makes it worthwhile for us to do. ScotPlant has always been successful for us – we wouldn't have done it all these years if it wasn't."
Worsley Plant managing director, Sean Heron, who had already completed three deals by the time Project Plant caught up with him, echoed those sentiments. "This is my favourite show of all the ones we go to," he beamed. "It's a great atmosphere, we get a lot of time to spend with customers and quality people come onto the stand.
"These shows are really important to the industry because I feel it's a way of putting our products in front of a huge audience at a low cost. ScotPlant is firmly in the calendar now every other year and I couldn't imagine doing business without the exhibitions. We've been coming to ScotPlant for the past 16 years and we've always left with business – either at the stand or in the weeks and months which come after it. We got a couple of orders on the stand yesterday and one this morning. It's business we wouldn't get otherwise."
Lyle Sibbald, sales manager for TDL Equipment, who were exhibiting a host of Terex Trucks and SANY excavators, also confirmed business had been conducted at the show. He said, "These shows are very important. It gives you a good gauge of what the market's doing and what people are buying. These type of things are good morale boosts for everyone in the companies. We've had a very successful show, the amount of enquiries we've had has been fantastic. We've also done some sales on the stand so you can't ask more than that."
Emma Crump, marketing and communications manager for Atlas Copco, added, "The thing about ScotPlant is that it really is tuned with the Scottish market, which is a bit different and we find it's a really friendly family-orientated show. It has an informal feel but we actually do business here as well so it really works for us. Atlas Copco has really high quality products so being able to touch and feel the products helps reassure people that what they're investing in is good. "
ScotPlant has traditionally been a successful show for Young Plant Sales – and this year was no exception. Managing director, Brian Young, explained, "We've been run off our feet – and that's the way we like it. This is our opportunity to show everybody what we do. Certain customers think we only do Kubota. Others think we only do dumpers or heavy excavators. This gives everybody an opportunity to see the full range of equipment. It lets customers see the latest developments in terms of engine emissions, technologies and telematics. It's a great show for a business like ours."
Yarwoods Excavator Attachments used ScotPlant to promote new products, including from the newly-acquired Hartl distributorship, and to educate customers about some of the changes that have taken place at the firm in recent months. Managing director, Henry Brain, said, "A few changes have gone on in the company with Peter Yarwood looking to retire so it's very important for us to show that it's business as usual. What better opportunity is there to show we're very much alive and kicking, and to raise the profile of the new products we've taken on? I think the trade shows are very important. This is a great opportunity for customers to have a hands-on look and see what's in the market. For us it's about being able to give the right technical information."
Andy Black, founder of ScotPlant debutant Relentless Plant, said the firm sold a Yanmar excavator on Day One of the exhibition. "We've had a lot of genuine enquiries, a lot of good business has been done," he confirmed. "We've caught up with customers we've never had the chance to speak to face to face. We'll definitely be back in two years. For Scotland this is the only big show. You've got the likes of Liebherr, Komatsu and Volvo – for us to be amongst it is very good considering where we've come from."
Survey Connection has been exhibiting at ScotPlant since the exhibition started. The firm said, "The personal side of doing business – that's what we like about this and it's a fantastic show for that. This is the best exhibition show we can attend. It's every two years and we sell a lot of equipment from this stand and we get a load of leads we follow up over the coming six months. It's a fantastically organised show – the best we've ever attended. This is our stand, we've been here since it started and nobody else is getting it!
"This is where you sell stuff. The Internet is a fantastic shop window but sometimes people like to try before they buy. They can come here, there's no commitment, and they can ask technical questions you often can't do with Internet sales. What you see is what you get."
Charlotte Evans from Astra Site Services, providers of hydraulic excavator attachments, was also full of praise for the event. "It lets the customers come and have a look at the attachments and physically see how they can help them," she said. "Nothing beats being able to see what you're talking about. The show is much bigger that I thought, there's a lot more plant here than I thought and the weather's a lot better than I imagined!"
Peter Brown, from Apex Fluid Power, said ScotPlant was a "fantastic platform" for the firm's products. "It's our first time here but it has been an excellent platform to showcase the products. Emailing is a faceless task. Face to face makes a fantastic difference. People are here because they want to buy. We'll be back certainly, with a much-increased range of machinery."
Paul Thorne, from SCG Supplies, added, "We've been coming to the show since Stephen started the company ten years ago next year. He turned up the first time with a van and a pasting table! It's fantastic, today's been a great opportunity to meet some of the guys we talk to on the phone two or three times a week. We've had quite a few managing directors here telling us that we're doing okay for them. We're here to get more business, plain and simple. That's exactly why everyone's here and I think it's been very successful. We keep coming back and we're very happy."
A full preview of ScotPlant 2016 will feature in the summer issue of Project Plant.