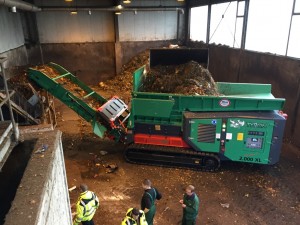 Glasgow-based firm Matpro Machinery is making its ScotPlant debut this year.
Formed in 2014, Matpro Machinery are the exclusive dealers for manufacturers of recycling equipment including Haas, CRS, Anaconda and Backers.
"The products that we offer complement each other in various ways and this helps us provide a complete solution for our customers. We're bringing top class technology to the market; our philosophy is to keep our overheads low, where possible, thereby keeping our margins low and offering value for money to our customers," commented managing director, Ben McQuaid.
"In the last year we've heavily focussed on Scotland and northeast England and we've had a very successful year which we want to continue and improve on.
"This is our first ScotPlant event and, being based in Scotland, this is the most important event in our calendar year."
Ben continued, "You'll be meeting our suppliers, you'll be meeting ourselves; we'll have three machines on the stand, one of which is a CRS 6018 Flip Flow Screen & Air Drum Separator, which is going to become more prominent with the introduction of LOI (Loss on Ignition) testing due to come into Scotland in October."
The company will also be showing the Haas Tyron 2000XL New Edition Slow Speed Shredder, which features an independent shaft drive mechanism, along with the Anaconda FSL100 Scalping Screen.
"We've put a good two years into the Scottish market and we want to build on that," Ben added.
"All we want to do is to continue get our name out there. Of course, picking up a couple of enquiries will be great but it's equally about meeting the customers in a different environment than normal and for them to find out a little bit more about us and us about them."