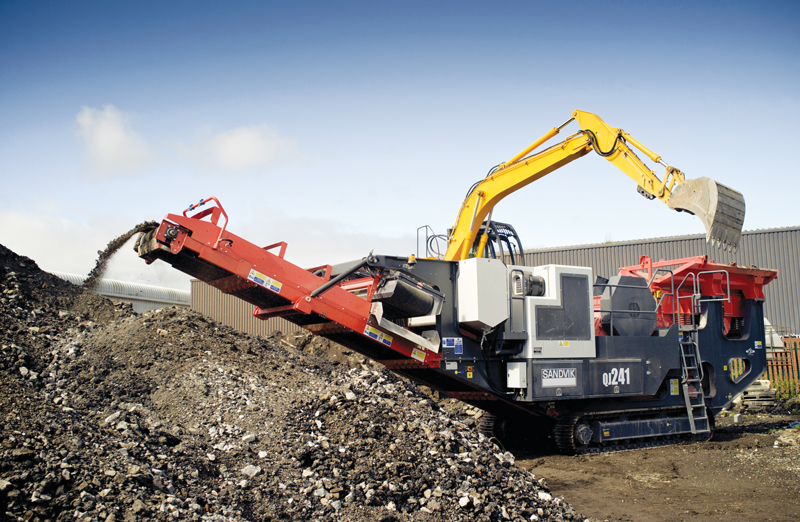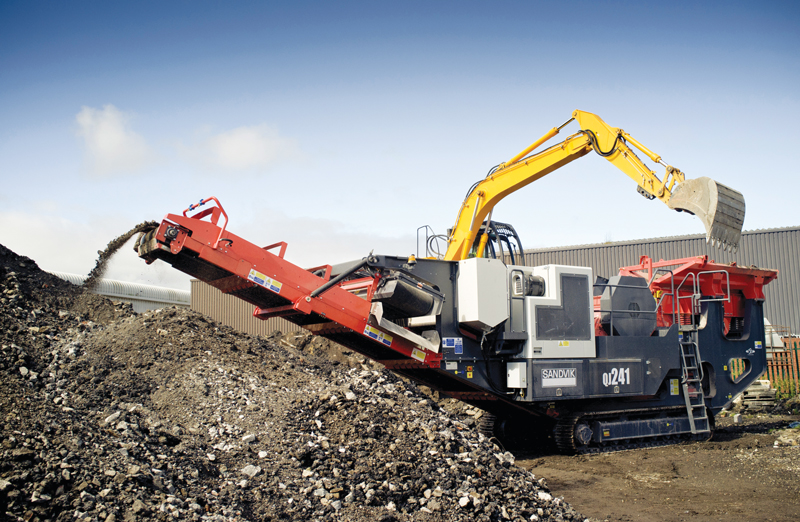 VISITORS to the Sandvik stand will be treated to  a selection of the construction giant's best-selling models from their mobile crushing and screening range.
Sandvik say the machines have been developed with customers' requirements in mind, ensuring the firm  produces the right equipment, for the right application, with features that ensure "maximum levels of productivity, with the lowest levels of cost and environmental impact".
Highlights this year include:
• QH331 Hydrocone crusher
• QJ341 Jaw Crusher
• QJ241 Jaw Crusher
• QE341 Scalper
The QH331 cone crusher features the CH430 Hydrocone crusher, described by Sandvik as possessing a direct drive system in order to increase product performance. "This is a more efficient and robust, featuring a variable crusher speed to manipulate product gradation," the firm said.
QH331 key features include:
• Sandvik Hydrocone crusher for ultimate performance and reliability
• Remote camera for visibility of the crushing chamber from ground level
• Level sensor to regulate the feed to optimise product, reduction and shape
• User friendly PLC control system and colour screen for ease of operation
Two of the best-selling jaw crushers from Sandvik's Premium range will also be on display.  The larger model, the QJ341, possesses what the firm says is a "class leading" 1200 x 750 mm jaw size that has been designed for larger operations. The QJ241 is the most compact member in the range, but still boasts an impressive 1000 x 650 mm feed opening.
Both models feature a hydraulically adjustable CSS setting and are hydraulically driven which enables the machine to restart with a full crushing chamber. Sandvik said both have proved to be ideal for recycling applications being fitted with a reverse crushing capability to relieve blockages and crush problematic sticky materials.
The extended main conveyor may also be hydraulically raised or lowered, making it the "ideal solution" for rebar clearance in recycling applications.  Other features include:
• Automatic central lubrication system to reduce maintenance time
• User friendly PLC control system and colour screen enabling visual data output and control
• Steel pipe work, for a maintenance free sealing solution and better heat dissipation
• Speed wheel on the main conveyor and an improved load control system for optimum feed regulation providing a continuous and uninterrupted crushing process
Also being showcased at this year's Scotplant is the QE341 tracked scalper, which has been developed with easier setup, operation and maintenance to the fore.
The machine features an easy to operate electrical control system, which incorporates a number of features to improve both the operational effectiveness and machine safety.
The control simple system has colour-coded numerical push buttons and a visual display unit. This enables the operator to view engine and plant status. Prestart warnings on all plant functions and an auto start/stop facility together with a three mode selector function – setup, operation and tracking facility – all ensure that safety, as well as ease of operation, are paramount. With full radio controlled as standard, the QE341 is said to be perfect for contractors requiring the need to travel quickly from site-to-site.
[hr]
Sandvik QH331 Hydrocone Crusher