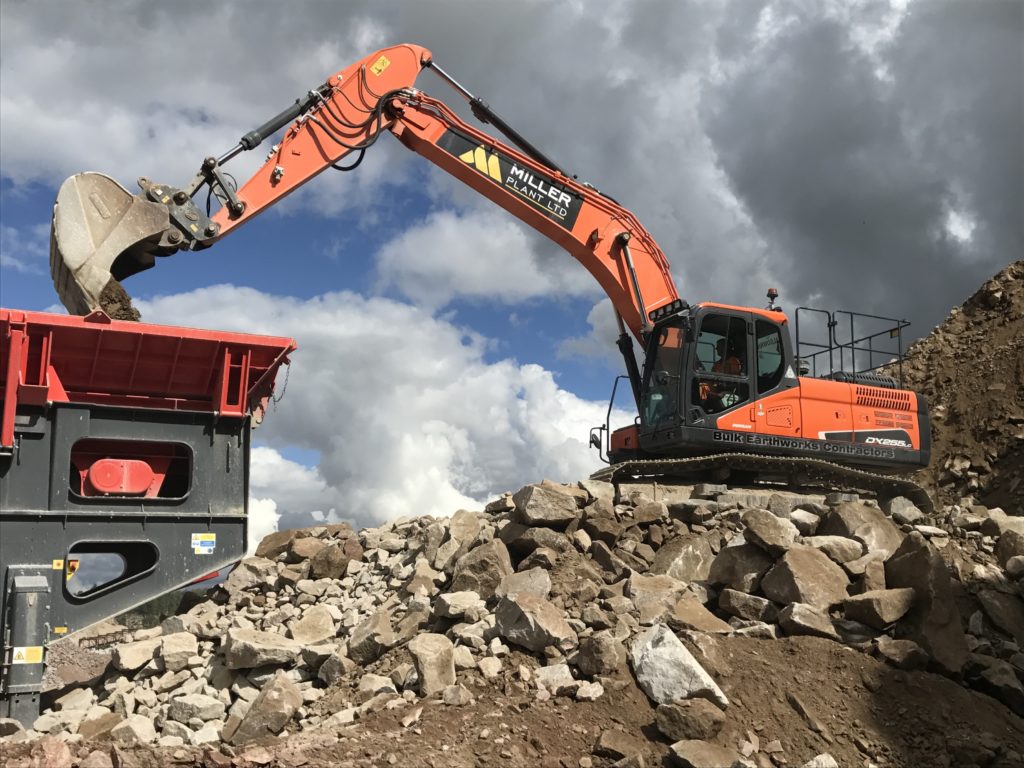 NEW Doosan crawler excavators and a wheel loader have been snapped up by Inverurie-based Miller Plant for the busy Aberdeenshire market.
Supplied by Balgownie Ltd, the deal comprises DX225LC-5 22-tonne and DX255LC-5 25-tonne excavators and a DL420-5 wheel loader. Miller Plant's range of services include earthworks, contract crushing, screening and demolition works.
The DX255LC-5 and DL420-5 will be primarily involved in quarry and contract crushing and screening tasks, whilst the DX225LC-5 has joined Miller's plant hire operation.
Alan Miller, MD of Miller Plant said, "We are very happy with the new Doosan machines – they make a good range of excavators, wheel loaders and dump trucks. Another important aspect is the service available from Balgownie, who arranged a very attractive package for the machines that includes 5-year warranty. As they are doing more than 60 hours a week each, the machines come with the peace of mind that is provided by 5-year warranty cover and Balgownie's always fast response to our requests and service support.
"The Aberdeenshire market has always been a busy one – as shown by the new 25-tonne Doosan excavator, which as soon as it arrived, went straight out to work the same day on a contract crushing and screening job. We're exceptionally proud of our reputation, and the heritage on which it's built and as a family business, it is now in its third generation."