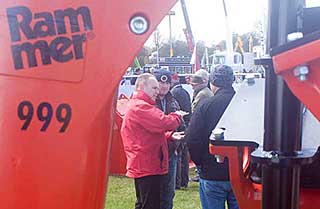 The Rammer brand has been resurrected and within days of the news being announced it was in evidence at Ingliston.
The latest models were on the stand of Murray Plant, one of the top dealers in the world for the breakers which until recently carried the Sandvik name. Being displayed for the first time in the UK was the 1533 unit for excavators from 10-19 tonnes.
The Rammer brand was withdrawn in 2007 when the entire Breakers Lahti product line came under the Sandvik Mining and Construction umbrella. Under the new arrangement, Rammer-branded hammers and attachments will be available through existing sales and distribution channels, mainly to customers in the construction, demolition and quarrying sectors.
Customers in mining and large quarrying or those requiring breakers as part of a Sandvik turnkey package will continue to be served through direct channels.