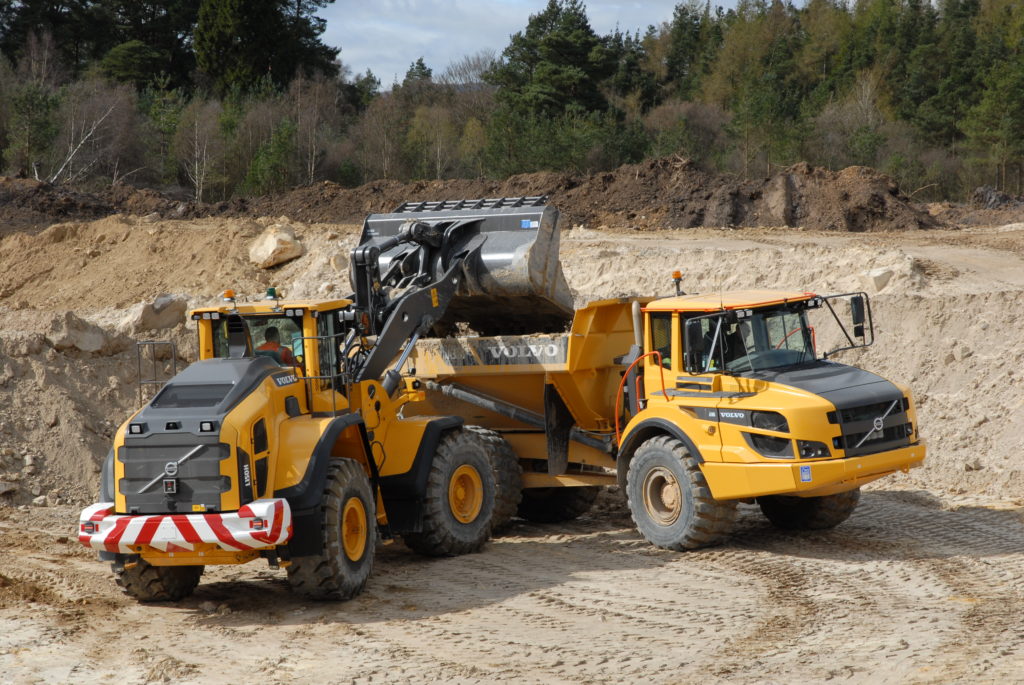 A new Volvo loading shovel has made its way to O-I Manufacturing's Devilla silica sand quarry, based at Bogside near Alloa.
O-I is a giant in the glass packaging manufacturing industry and has been operating Volvo machines at Bogside for more than 20 years. The Devilla quarry supplies silica sand to the firm's Alloa factory, which is one of 80 plants operating worldwide.
O-I's latest purchase is a L150H. Quarry manager Gareth Jones hailed the "product quality and reliability" of Volvo machines as well as after sales support. He said, "Apart from a crawler dozer, all our mobile plant is comprised of Volvo branded products which include loading shovels, articulated haulers and a long-reach twenty-one tonne excavator."
The new L150H wheeled loader replaces a G-model, which had completed 6,400 hours of "virtually trouble-free" service. The machine joins a fleet consisting of two A30 articulated haulers, two L120H wheeled loaders, an EC200D long-reach excavator and a compact 5.5 tonne EC55C.
Volvo said the L150H becomes the quarry's prime extractive machine loading silica sand from the face into the two A30 haulers. Gareth added, "We've been pleasantly surprised by the performance and reliability of the new L150H model. Our operators have positively commented on the smoothness of control and performance in addition to the low-noise emission of the machine."
A feature of the new machine is the 3.6m³ capacity bucket. O-I Manufacturing has added 40mm thick edges welded to the underside of the teeth. "The very nature of the material we are extracting here at Devilla means we experience a high rate of wear to the ground engaging equipment, so in order to combat this, we've added 40mm of Hardox 400 material to the underside of the teeth and heel plates of the bucket," Gareth added.
The new L150H is fitted with Volvo's telematics system, CareTrack, and is covered by Volvo's Gold Service Agreement.